Retirement Gifts
Our custom labeled & engraved wine bottles make a perfect retirement gift to celebrate this major milestone.

Whether you're congratulating a loved one, a co-worker, an employee, or a close friend, retirement is a paramount achievement that only comes after decades of dedicated effort and service. As they embark into this next phase of their life, honor their accomplishments by marking this momentous occasion with a thoughtful, unique retirement gift to express your appreciation and well-wishes for future endeavors. They've worked hard to get to this moment - now let them sit back and sip a well-earned glass of wine from a custom bottle crafted especially for them.
A custom labeled or engraved wine bottle is a unique retirement gift that to your genuine regard and gratitude for this individual's lifelong labors. The gift of vino indicates that their triumph is toast-worthy. After all their hours logged, meetings attended, and obstacles overcome, the retiree certainly deserves to pop open that cork and cheers to the culmination of their career.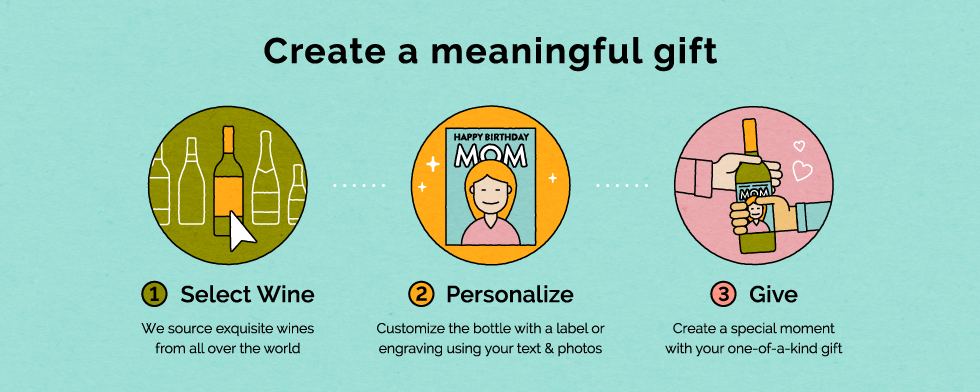 Our favorite retirement gift ideas
They are the champion

Is it a coincidence that a bottle of wine resembles a trophy? Celebrate their success by engraving any awards, patents, or special achievements into a wine bottle or wood box.

History in pictures

Personalize their retirement gift with a custom label featuring photos from different jobs or cherished moments over the course of their career.

Mark the date

Have your label or etching include the date they are retiring to record this right of passage into their next chapter.

A gift and a card in one

Outfit your label with a thoughtful message conveying respect for their past and hope for their future to create a meaningful, personalized retirement gift.

Throw a party

Throw a party and hand out customized mini bottles commemorating the retiree on the labels as party favors.

Go out with a bang

Let your retiree feel the love with a super-sized 1.5 or 3 liter bottle that can be shared amongst friends and family.
Still have questions?
Your retiree deserves to celebrate their hard work and dedication. Here are three easy ways to get assistance creating a personalized retirement gift: